May 22, 2023 09:03 AM Central
Vicki Merrill
Whether you were around for any of these decades or are simply appreciating all they brought to our current culture, these blends will take you back to the best of the years. Diffuse it, roll it, spray it - no matter how you use these combinations you're gonna love them!
You can use these same recipes as a diffuser blend, a 10mL roller blend (
https://amzn.to/3rE96Gt
) or a 2oz spray (
https://amzn.to/3L9Jb0M
). To use in the diffuser, follow the recipes as is or simply add a total of up to 12 drops in most diffusers (up to 20 for the Aria!)
For the rollers, add a total of 30-50 drops of oil and carrier to a 10mL roller bottle.
For the spray add a total of about 25 drops to the bottle. If you want a larger spray bottle, simply double the amounts. To use the sprays, add the ingredients to a bottle, invert to mix and spray onto surfaces or skin as desired.
Sock hops and swing dancing and all things happy and wholesome.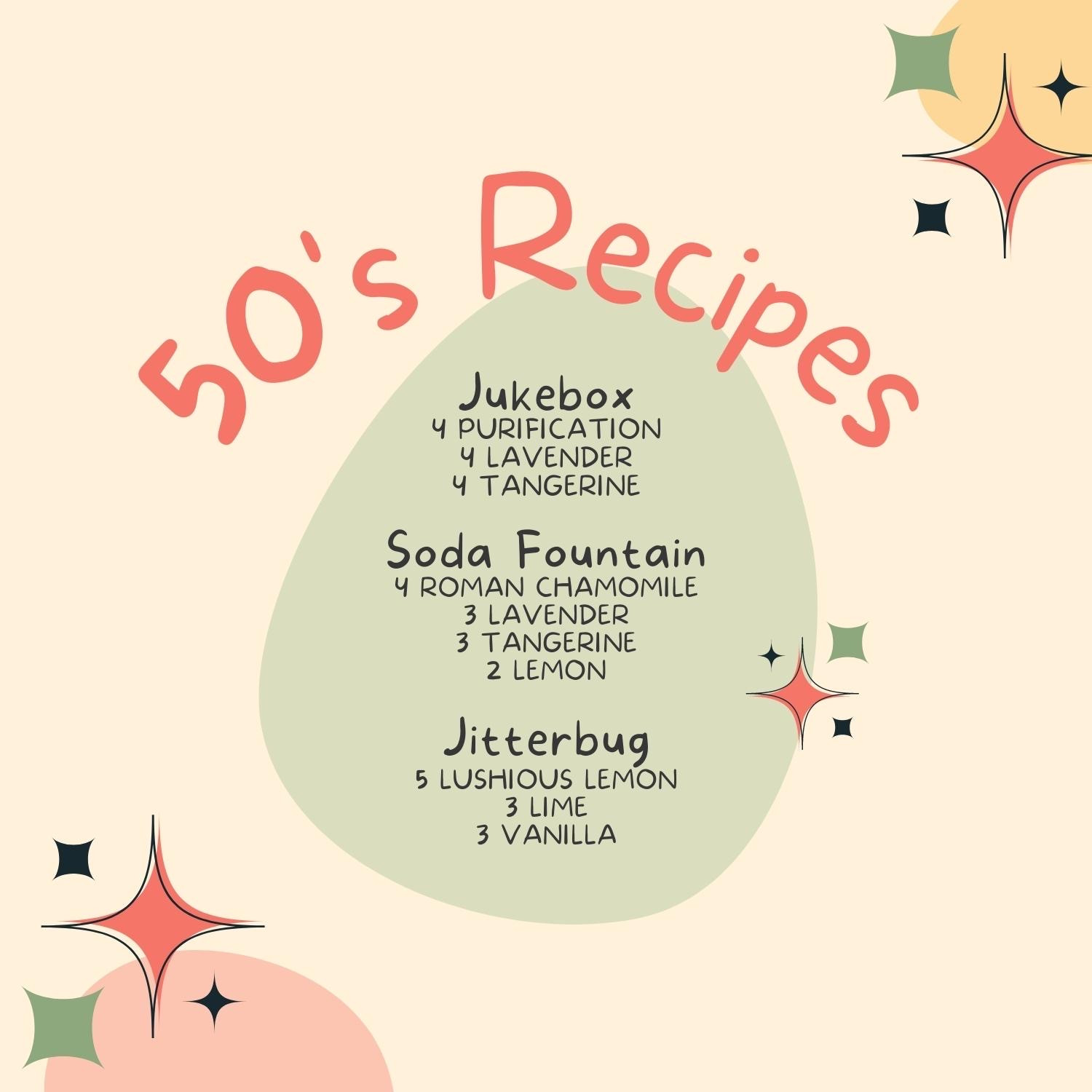 The era of nostalgic music and the beginning of many modern technologies!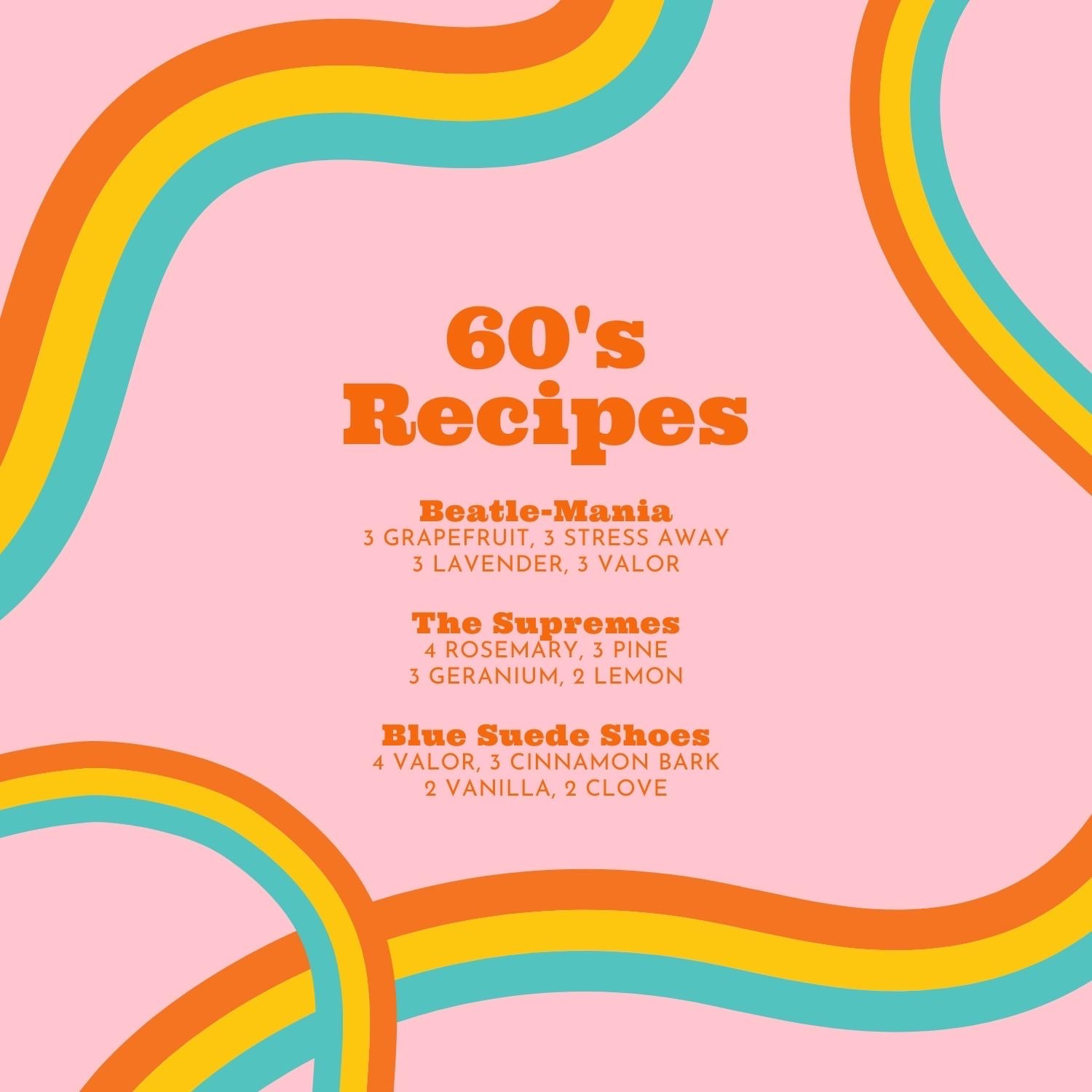 Bell bottoms, braids and big social change, this era was one to remember.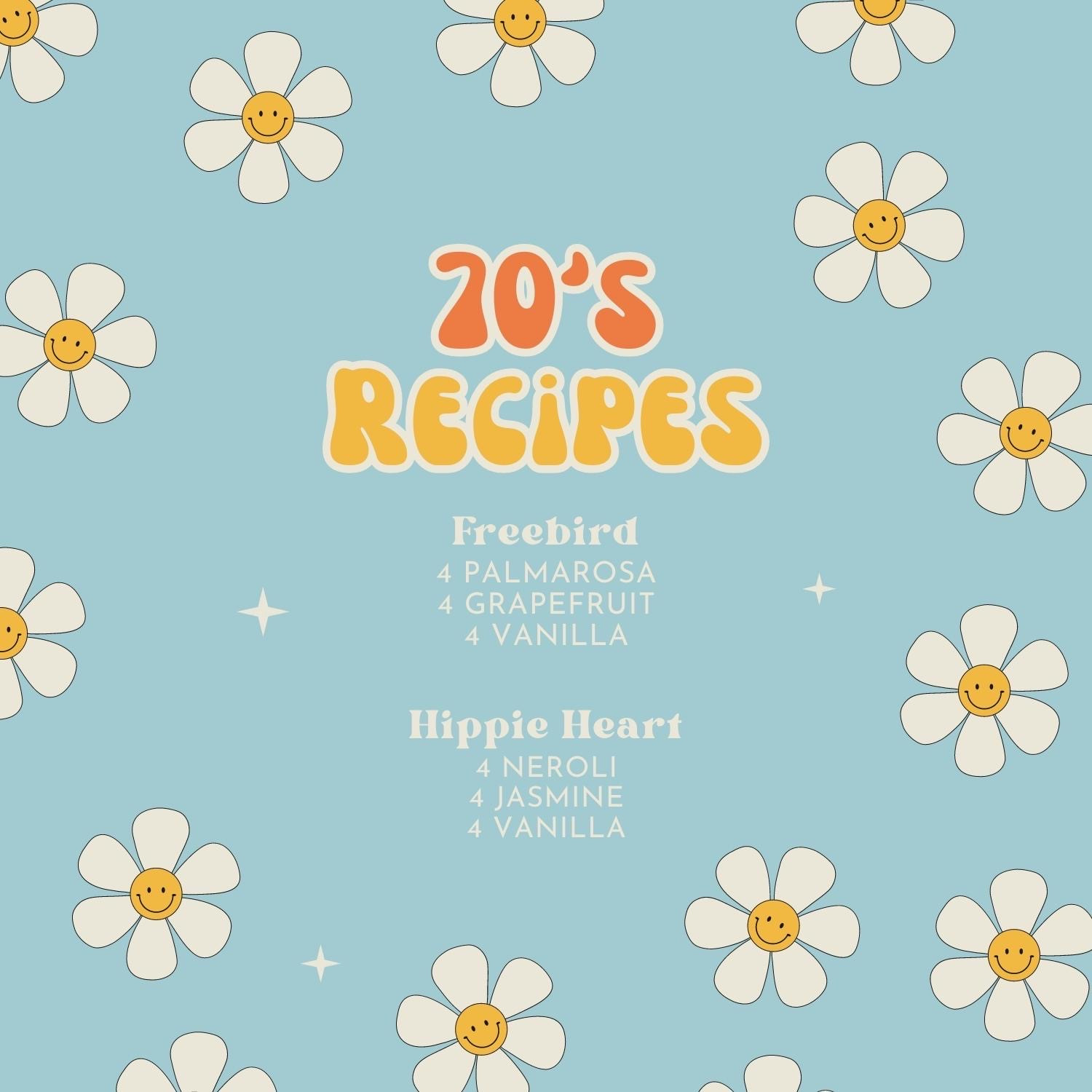 Cue the big hair and leotard cause we're blasting it back to the 80s with these blends!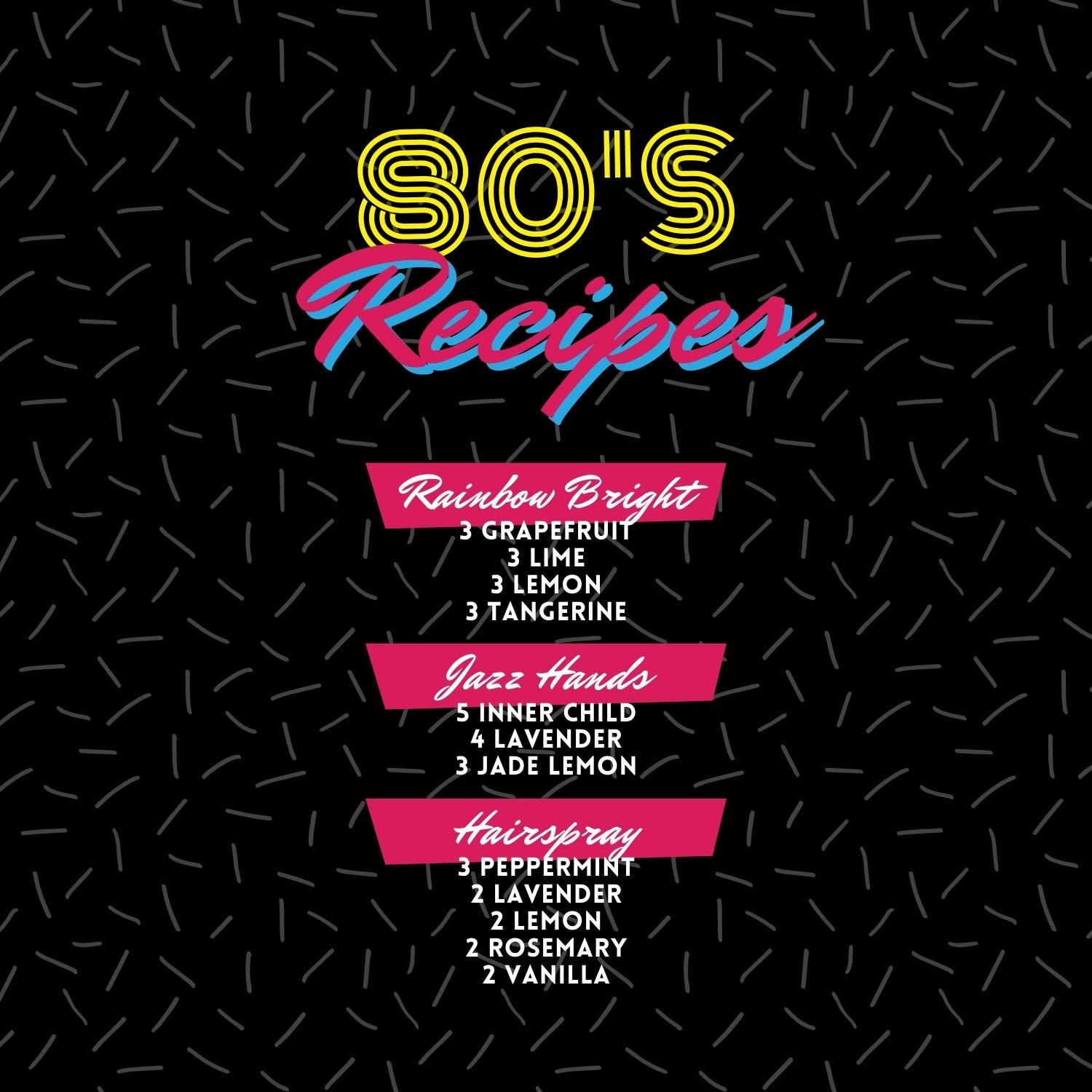 This era might be the most nostalgic of all…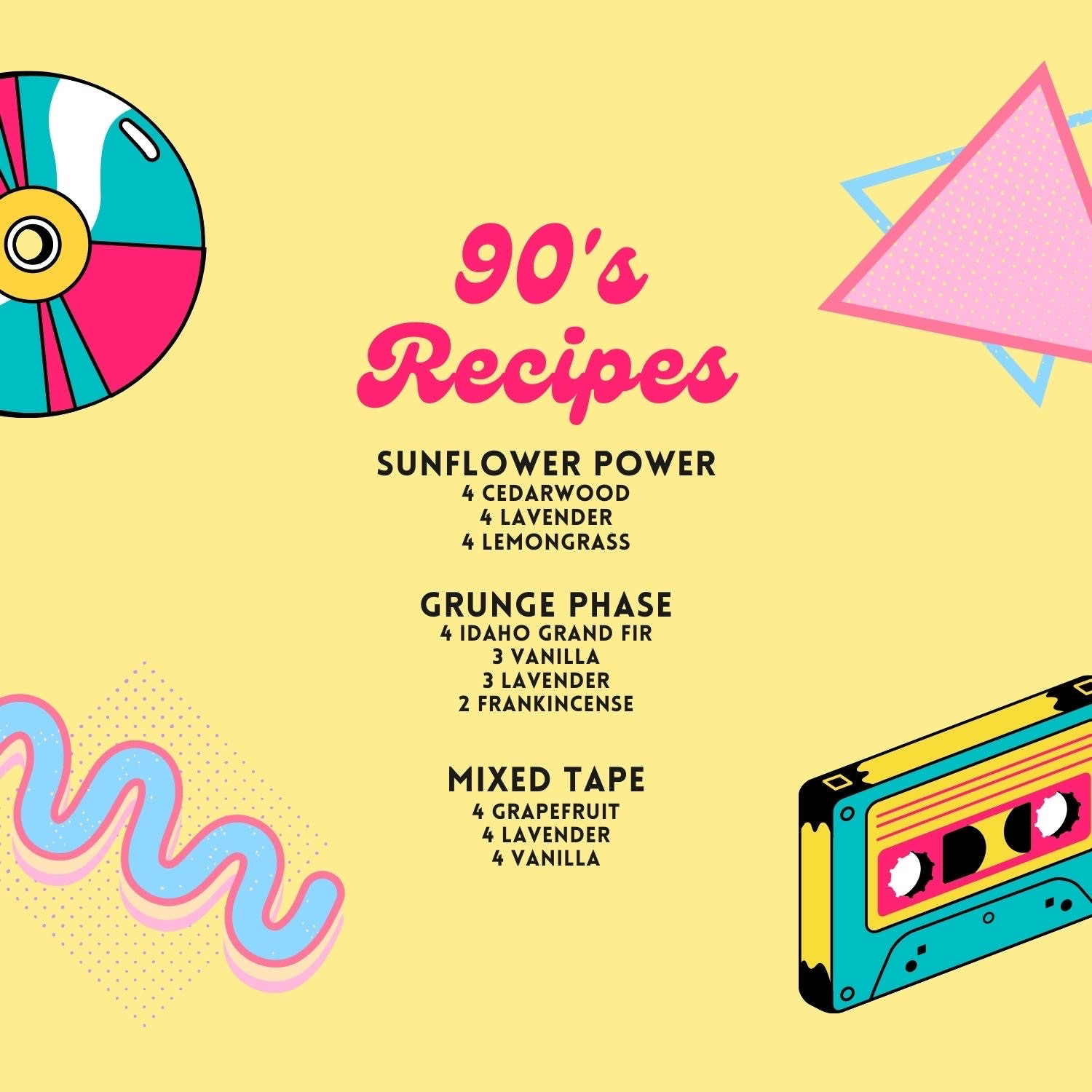 What's your favorite era??
Mar 13, 2023 01:15 PM Central
Vicki Merrill
We can't stop the time change, or the weather, but what if you could find some help and support with other areas of spring's arrival?

We are all ready for spring with it's promise of warmer temps, beautiful flowers popping up, the sound of birds...but it can also have a down side...those acute respiratory issues... Try out these simple sprays and rollers and help make this season's arrival easier on your nose...
Changing Seasons Oral Spray
This little bottle will be your springtime bff! Applying oils topically and diffusing are great health habits, but there is even more benefit to using oils as dietary supplements. Try this out to give your respiratory system a little TLC this season!
1 drop each Lavender Vitality, Copaiba Vitality, Peppermint Vitality
2 drops Orange Vitality, Lemon Vitality
Splash Thieves Mouthwash, optional
Filtered water.
Add all ingredients into a spray bottle and shake well. Spritz into your mouth daily or as desired!
Raindrop Oral Spray Sometimes our defenses need a little extra boost, and this combination of oils is our go-to when we need something a little 'more.' The Raindrop Massage Technique is a powerful health tool, so we're using some of those oils on, around, and in our bodies when we need it!
1 drop each Oregano Vitality, Thyme Vitality, Peppermint Vitality, Basil Vitality
2 drops Lemon Vitality, Orange Vitality
Splash Olive Oil
Filtered Water
Add all ingredients into a spray bottle and shake well. Spritz into your mouth daily or as desired. Note: this one may tingle a bit, similar to OTC throat sprays.
DIY Nasal Rinse
Grab your Neti-pot and whip up your own oil-infused sinus rinse!
10 drops Lavender essential oil
15 drops Copaiba essential oil
8 Tbsp of ultra fine salt (unprocessed, no iodine) Mix well and store in a sealed glass jar. To use, dissolve 1 tsp of salt mixture into 1&1/2 cups of distilled water (or water from a Berkey filter or boil and cool some water), then add to your Neti pot and use as needed.
DIY Season's Change Capsules
Make using your Vitality oils easy with this simple hack!
2oz glass dropper bottle
30 drops each Lavender, Lemon, Peppermint, Copaiba Vitality
Olive oil to desired dilution (about 2 Tbsp)
When you're ready to make a capsule, fill an empty vegetable capsule with a dropperful of the blend and take as desired.
Sinus Support Steam Pot
When you're needing some relief from the pressure that spring can cause your sinuses, try this trick!
Bowl of very hot, steaming water
2-3 drops Peppermint Essential Oil
2-4 drops Dorado Azul Essential Oil
Add essential oils to the water (start with the lower end and add more as desired). Place a towel over your head and sit with your head above the steam bath to open the airways.
Happy Noses Roller
This is a great roller to use anytime you need some sinus relief, but it is especially great after doing the sinus steam pot!
20 drops each Dorado Azul, Idaho Blue Spruce
10 drops DiGize, R.C.
5 drops Peppermint
Roll over the sinus cavities as desired. Take care when using near the eyes and dilute more if desired. If you get it too close to your eyes, simply apply coconut oil over the area.